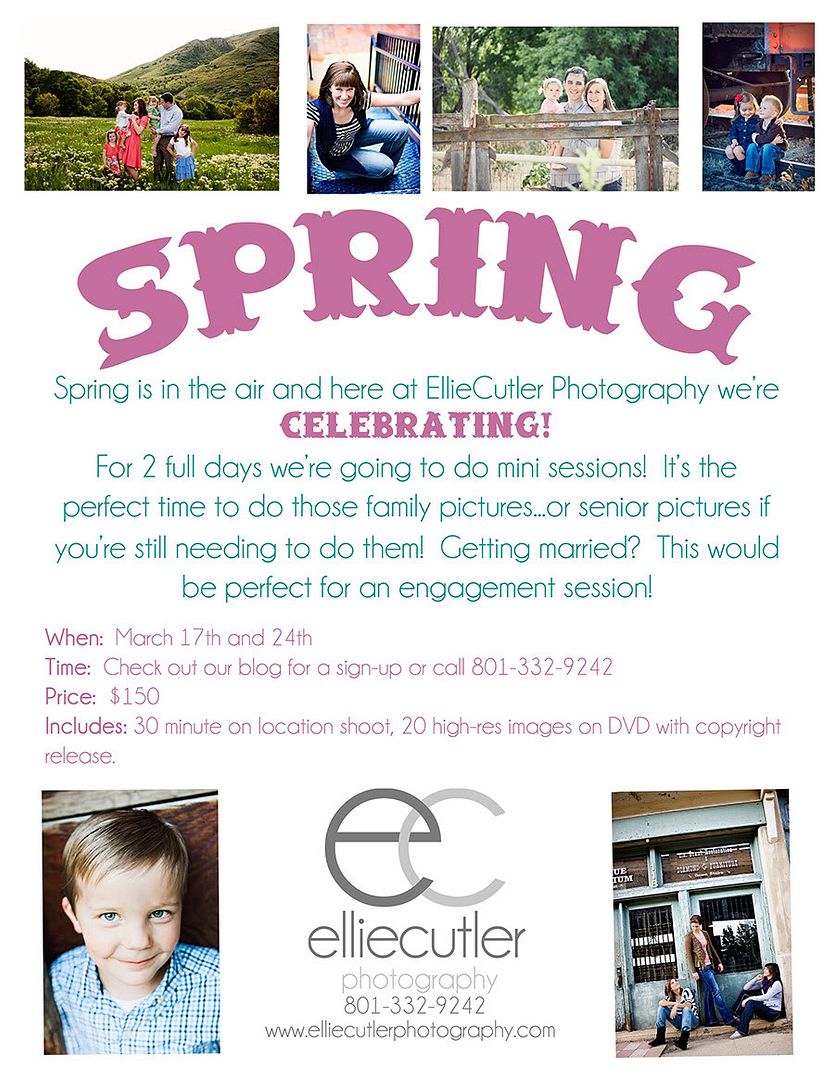 Ok all...Here is the flyer for mini sessions. :) To welcome in Springtime...I've decided to do 2 full days of mini sessions. It is the PERFECT opportunity to finally get those family pictures done.

Here are the details:

What makes mini sessions different?

Our regular photo sessions usually last an hour and a half to two hours in length and at the location of your choice. Mini sessions are conducted at a specific location and are thirty minutes in length. Only one outfit and one location (predetermined by photographer) is allowed.
This session is for families of all ages.
**Please note that we will only allow ONE household family per time slot. Immediate families only, no combined families.**
Can I book 2 sessions together for a longer time period?
If you want to book 2 30 minute sessions consecutively you are more than welcome to. However, you would be billed for the 2 30 minute sessions...not just the one.

How much does it cost?

The cost is $150 and will be due at the time of your scheduled session.
Cash or Pay-pal are accepted.
What times are available?
We'll be shooting from 9:00 am to 11:00 and then again from 4:00 pm to 7:00 pm in 30 minute increments. So there are 12 slots available on each of the 2 days.

How do I sign up?

Email us at elliecutlerphotography@gmail.com or call me at 801-332-9242 or leave a comment indicating the time you want and we'll get it scheduled! If emailing, include parent's name, child/children's name(s), ages, and whether you would prefer a morning or evening session time. If you leave a comment, make sure to include your email address so I can follow up with those questions. Inquiries will be responded to on a first come first serve basis.

What if we get rained/snowed out?

In case of inclement weather, mini sessions will be moved to a studio location or you will have the option to reschedule for a later date and time.

Can I get a map to the mini session?
We will email you the address of the location that can be used at mapquest.com. We include this information in a private email to disclose the location to participants only. The actual locations are in Weber County (outdoors/canyon area) on the 17th and Salt Lake County (urban) on the 24th.

When will I receive my pictures/CD?
I have a 1 week turn-around time. After editing, your pictures will then be mailed to you to the address provided on an information slip to be completed at the time of your mini session.
What to wear?
Anything that reminds you of Spring!!! Remember to use patterns, textures and layers to add visual interest. Select clothing that is poppy, vibrant and fun! Choose colors that are deep, rich and intense! Textured fabrics, such as denim, cable knits, and corduroy, photograph beautifully. Layers can be added and removed to create different looks in minimal time. When it comes to jeans, opt for the darkest indigo wash. These tend to be the most flattering and least dated. Most importantly, we want everyone to be casual and comfortable in their attire.
What to bring?
We will provide props and themed background materials—but if you have a cute idea—bring it along!

When to arrive?
On-time of course! Please don't be late as this will put us behind schedule. Please plan to arrive a few minutes early.
Don't wait to sign up! This mini session will fill up fast!